The Atlanta Chapter 15th Annual Walk to Remember
at the National Conference in Chicago, Illinois
July 13, 2014

We are doing something different this year.
After 10 years of carrying the banner, our group decided to have t-shirts printed
with the children/sibling names. The t-shirts will be worn at the walk in Chicago
by our local chapter members who attend.
And they will also be available to purchase as soon as we have the names.
If you want to have your child/sibling listed on the t-shirt, go to the following website:
http://www.tcfatlanta.org/AtlantaWalks2014.html


2014 TCF National Conference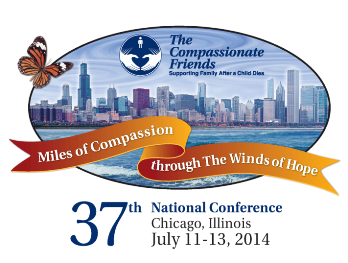 The Compassionate Friends is pleased to announce that Chicago, Illinois, will be the site of the 37th TCF National Conference on July 11-13, 2014. "Miles of Compassion through The Winds of Hope" is the theme of this year's event, which promises more of last year's great national conference experience. The 2014 conference will be held at the Hyatt Regency O'Hare in Rosemont, just minutes from the airport. We'll keep you updated with details here, on the national website as well as on our TCF/USA Facebook Page and elsewhere as they become available. Plan to come and be a part of this heartwarming experience.
Early registration for the conference will be $90.00 for Adults, $40.00 for Children (9-17), and $40.00 for Full-Time College Students.
The Hyatt Regency O'Hare, 9300 Bryn Mawr Ave., Rosemont, IL 60018, is now accepting reservations for TCF's National Conference. To make your reservation, please access the following link, which will take you directly to TCF's reservation portal on the Hyatt's website. Conference attendees are receiving a discounted room rate. We anticipate a large attendance for the conference, so we encourage you to make your reservation as soon as it is convenient for you.
Reservations can also be made by calling the hotel directly at 888.421.1442 and please mention The Compassionate Friends when reserving your room. Please visit Rosemont's website, www.rosemont.com, for information on local area dining and activities.

The Compassionate Friends of Atlanta Facebook Group
The Compassionate Friends of Atlanta now has a Facebook Group. We invite you to join.

For more information, Click the following link
http://www.facebook.com/group.php?gid=43057397614
You will need to log into Facebook to join the group. You will also need a Facebook account (they are free).
Our hope is that you will be able to connect to someone to help you in your grief journey.
Remember "We Need Not Walk Alone".
TCF Atlanta Chapter Quarterly Newsletters
Atlanta Chapter Newsletter - Fall 2012
Atlanta Chapter Newsletter - Summer 2012
Atlanta Chapter Newsletter - Spring 2012
Atlanta Chapter Newsletter - Winter 2012

Prior Newsletter Archives for Atlanta Chapter


TCF Gwinnett Chapter Quarterly Newsletters
Gwinnett Chapter - Winter 2012/2013

Prior Newsletter Archives for Gwinnett Chapter


TCF Marietta Chapter Bi-Monthly Newsletters
Prior Newsletter Archives for Marietta Chapter

Resources for the Newly Bereaved
(Please feel free to print and distribute to those in need)
TCF Atlanta Area Information Brochure
Newsletter for the Newly Bereaved
(With information about our local chapters)
Special Newsletter for Suicide by Kitty Reeves