A sign will be displayed by our tree :
Star Lit Night
The Compassionate Friends
"In Memory of Our Children and Siblings"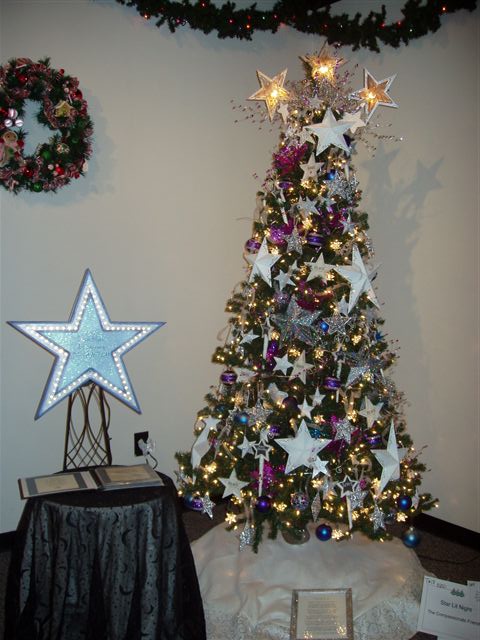 2007 Memory Tree
"Star Lit Night"

Wayne created these slide shows...you can view them online. Click on the link below:

Our Shining Stars....Let Their Light Shine
(Updated November 22, 2007)
Freddie "Bo" Allen, Jr.
1/15/77 - 4/14/01
Chatsworth, GA
Kenneth "Shane" Allen
10/25/77 - 5/30/04
Oxford, GA
Jon Michael Altier
11/25/68 - 5/4/02
Williamsburg, VA
Steven Amato
12/20/73 - 8/7/93
Wantagh, NY
Sarah Jane Anderson
6/1/89 - 10/22/03
Sevierville, TN
Samantha "Lynn" Armstrong
2/19/82 - 1/26/04
Temple, GA
James R. Avery
7/15/83 - 9/22/97
Sugar Hill, GA
Melissa Lee Ballenberg
4/29/65 - 8/19/05
Atlanta, GA
Henry Barnes
9/6/79 - 9/28/06
Union Point, GA
Ward Baron
8/26/81 - 7/13/07
Alpharetta, GA
Captain Rob Barrett
9/11/75 - 4/19/07
Ellijay, GA
Nathan Barrett
1/4/84 - 2/25/01
Young Harris, GA
Ronnie Batchelor
10/30/77 - 8/14/94
Snellville, GA
Stephen Beam
7/17/78 - 4/13/97
Canton, GA
Adam Robert Belcher
12/1/98 - 10/13/01
Marietta, GA
Larry "Bubba" Benis
11/14/85 - 10/9/05
Crystal River, FL
Christian Antonio Benitez
6/25/91 - 4/01/07
Stockbridge, GA
Jocelyn Roxanne Benitez
7/24/03 - 12/30/03
Stockbridge, GA
Marjorie Mae Bowen
4/13/66 - 8/19/01
Shortsville, NY
Christopher Boyd
1/29/74 - 7/23/96
Winder, GA
Jeffrey Bradley
3/13/70 - 1/4/99
Lawrenceville, GA
Kevin L. Brady
8/24/65 - 11/18/93
Lawrenceville, GA
David Arthur Braund
5/8/85 - 8/1/02
Lawrenceville, GA
Jamie-Leigh Britt
9/14/87 - 5/22/06
Vidor, TX
Kara Leigh Broughton
5/30/75 - 5/8/95
Sun City, AZ
Cain Brown
11/01/81 - 6/27/01
Griffin, GA
Lori K. Brown
9/13/82 - 11/03/03
Powder Springs, GA
Jessica Lyn Bryl
1/19/77 - 4/3/00
Hilton Head, SC
Fred Burdette, Jr.
7/11/67 - 3/19/06
Rome, GA
Sherry Burdette
9/19/68 - 2/20/03
Rome, GA
Cory A. Bute
4/2/82 - 6/20/03
Buford, GA
Joey Capron
5/26/63 - 3/17/84
Chamblee, GA
Connor Glenn Caracappa
8/22/92 - 3/24/03
Atlanta, GA
Joely Ann Castang
5/28/97 - 4/24/00
Douglasville, GA
Anna Elizabeth Chambers
8/29/88 - 7/9/00
Marietta, GA
John C. Christensen
4/9/72 - 12/5/00
Wimberly, TX
Jason Daniel Cirafisi
12/3/79 - 7/13/03
Collegeville, PA
John Coggins III
3/8/88 - 10/24/05
Roswell, GA
Andrew Jason Cowart
8/10/83 - 9/07/99
Hoschton, GA
Ashley Craig
12/2/89 - 9/27/07
Hampton, GA
Javus Crane
3/23/83 - 6/29/98
Salisbury, NC
Matt Crowell
7/27/82 - 5/24/99
Lilburn, GA
Scott Robert Cummins
7/26/71 - 1/31/97
Douglasville, GA
Clarissa Cunningham
12/8/1976 - 8/20/02
Tucker, GA
Jessica Erin Davidson
10/23/95 - 03/13/04
Rockmart, GA
Timmy de St. Aubin
3/4/93 - 7/3/93
Marietta, GA
Meseret Debru
12/18/80 - 11/23/02
Decatur, GA
Brian Patrick Devine
6/26/82 - 8/21/05
Lawrenceville, GA
AJ DeVol
4/25/86 - 1/28/02
Jenison, MI
Christopher Dimmick
9/8/67 - 10/24/84
Cumming, GA
Nicholas "Nicky" Docu
6/25/93 - 10/21/03
Bronx, NY
Jessica Dodge
9/25/87 - 1/14/04
Lilburn, GA
Joseph "Joey" Edward Doyle
12/28/76 - 6/6/03
Dunwoody, GA
John Drollinger
12/28/1980 - 6/29/01
Kennesaw, GA
Preston Drummond
8/4/03 - 5/23/05
Temple, GA
Kyndall Nikole Durden
9/20/93 - 10/6/04
Hamilton, GA
Brayden Eanes
8/27/06 - 11/03/06
Atlanta, GA
Kyle Eastham
1/5/88 - 4/6/00
Douglasville, GA
Anthony Eck
7/2/85 - 8/16/01
Salem, OR
Geoffrey P. Edwards
5/6/84 - 5/22/02
Atlantic Highland, NJ
Kathy Edwards
9/24/68 - 12/24/95
Macomb, IL
Toby Edwards
7/5/95 - 12/24/95
Macomb, IL
Christopher Faller
5/7/90 - 3/24/98
Pittsburg, PA
Thomas Farris
12/1/74 - 2/27/98
Middletown, NY
Kristin J. Gillis
6/19/88 - 1/15/05
Dublin, GA
Toby Michael Gizzonio
12/9/73 - 8/22/99
Cambridge, MA
Chad Gordon
5/21/72 - 9/3/96
Lilburn, GA
Shawn Marie Gordon
5/25/69 - 4/4/03
Lakewood, CO
Ryan Gosse
8/21/84 - 8/04/02
McDonough, GA
Andre' Graves
12/24/70 - 10/02/06
Jonesboro, GA
Michelle Marie Greever
8/24/84 - 11/5/93
Colbert, WA
Steven Grimm
11/29/89 - 9/6/07
Jasper, GA
Jennifer Gryzinski
4/7/85 - 8/21/03
Atlanta, GA
Bonnie Catherine Haddock
2/6/85 - 8/13/02
Clinton, MS
David A. Haizlip
9/21/75 - 3/26/00
Griffin, GA
T. Wesley Hardin
11/21/78 - 9/26/05
Shari Harlan
7/6/64 - 7/6/05
Clay City, IL
Billy Hawley
3/15/83 - 9/27/04
Norcross, GA
Machera Renee Henderson
3/24/81 - 9/2/00
Alto, GA
Micki Henderson
4/25/71 - 12/23/00
Tyrone, GA
Kay Cee Herring
7/7/76 - 12/1/99
Buford, GA
Matthew Hinson
4/24/90 - 6/16/05
Lawrenceville, GA
David Michael Hoegler
12/18/80 - 12/16/03
Norcross, GA
Andrew Holder
3/11/68 - 2/01/99
Powder Springs, GA
James Horton
8/2/79 - 9/10/99
Herndon, VA
Teresa Ellen Wesley Hough
4/25/68 - 10/02/93
Economy, IN
Joshua Hughes
4/30/82 - 11/7/03
Sykesville, MD
Ashley Lauren Hull
3/30/84 - 10/27/07
Lawrenceville, GA
Carissa Ellen Hunsaker
10/19/94 - 10/20/95
Bryant, AR
Chris Hunter
7/26/73 - 12/31/96
Marietta, GA
Jeremy Allen Imrie
8/10/78 - 12/02/02
Ashtabula, OH
Jody Lee Imrie
7/21/69 - 5/27/05
Ashtabula, OH
Kanda Jacobs
5/24/73 - 4/13/04
Flora, IL
Corey James
6/16/83 - 8/17/03
Deltona, FL
Michelle James
3/31/81 - 8/17/03
Deltona, FL
Lisa Mosley Johnson
2/16/63 - 10/8/04
Douglasville, GA
Trent William Johnson
1/30/01 - 8/5/02
Alpharetta, GA
Luke Edward Jordan
8/11/99 - 1/4/05
Powder Springs, GA
Patrick Ray Kelly
6/7/77 - 9/1/96
Gainesville, GA
Kyla Theresa Miklavic-Kinley
7/25/00 - 10/24/02
Huntsville, AL
Brooke Leah Knapp
1/10/05 - 11/9/06
Villa Rica, GA
Brittany Knoch
6/17/85 - 5/2/04
Lawrenceville, GA
Matthew Kusila
8/25/89 - 9/11/90
Wantagh, NY
Cody Dylan Kyle
12/18/99 - 2/24/00
Covington, GA
Janet Lambert
8/14/55 - 11/27/96
Irving, TX
Daniel Langley
8/3/79 - 3/21/02
Bear, DE
Kellie Louise Larivee
3/10/86 - 1/08/00
East Hartford, CT
Joey Long
11/29/83 - 4/8/01
Havana, IL
Jason Maham
4/28/75 - 8/17/04
Buford, GA
Christopher Mainhart
3/30/79 - 8/24/03
Florence, KY
Robert Malkin
11/5/76 - 5/4/98
Clermont, FL
Mandi Lynn Mast
6/29/80 - 8/15/00
Newborn, GA
Kathy Joe Maynard
1/13/73 - 6/1/99
Gifford, PA
Casey McCoy
10/13/76 - 1/01/77
Clarkesville, GA
Jason McCoy
12/21/73 - 1/31/02
Mooresville, NC
Jason Wayne McCoy
2/07/85 - 2/04/07
Winder, GA
Robert "Casey" McCoy
10/13/76 - 12/31/76
Clarksville, GA
Madison Ashley McKenzie
11/14/90 - 7/26/07
Smyrna, GA
Joshua McGuirt
2/18/03 - 7/17/03
Dallas, GA
Patrick W. McTague
4/13/81 - 8/1/03
Shrewsbury, MA
Autumn Nicole Mendoza
10/31/84 - 8/04/03
Batesville, AR
Keaton Joseph Meyer
10/30/97 - 10/30/97
Douglasville, GA
Clay Miller
8/31/82 - 10/07/02
Madison, MS
Michael Miller
4/11/62 - 1/12/06
Madison, MS
Kimberly Ann Moore
12/7/78 - 11/14/97
Lubbock, TX
Me'Chelle A. Murphy
7/3/80 - 8/7/06
Decatur, GA
Megan Denise Murphy
8/28/79 - 4/27/01
Ooltewah, TN
Jill Michiko Nakawatase
9/29/79 - 3/8/04
Lodi, CA
Paula Joanne Normore
9/10/86 - 1/19/01
L'anse Au Loup, NL Canada
Clayton Royce Olvey
11/30/70 - 1/12/98
Cumming, GA
Ricky Otter
7/15/84 - 11/14/03
Woodville, ON Canada
Brian Joseph Parker
4/12/73 - 3/22/01
Forest City, PA
Timothy Patrick Parker
4/5/75 - 3/22/01
Forest City, PA
Jefferey Armstrong Patterson
6/28/80 - 4/26/01
Marietta, GA
Trena Jo Patterson
1/24/56 - 12/1/98
Douglasville, GA
Thomas Michael Pattillo
5/14/73 - 3/11/98
Lawrenceville, GA
Samuel Thomas Peek
9/19/81 - 12/10/04
Palmetto, GA
Margaret Anne Perkins
3/31/64 - 1/23/97
Doraville, GA
Charles Pilgreen
1/28/63 - 3/19/94
Birmingham, AL
Michael Pisarek
4/9/90 - 7/31/03
Franklin, WI
Derrick Plankenhorn
11/07/84 - 2/19/03
Brooklet, GA
Alex Brett Powell
1/14/83 - 7/28/06
Douglasville, GA
Jeffrey Lee Powell
8/6/84 - 4/27/02
Douglasville, GA
Corey Adam Price
3/24/83 - 1/31/04
Norcross, GA
Glenn Price
3/22/00 - 11/2/05
Warner Robins, GA
Steven M. "Mike" Price
10/12/69 - 4/9/86
Bogalusa, LA
William M. "Trey" Price
11/12/67 - 4/2/90
Bogalusa, LA
Jamie Ann Quillen
6/7/76 - 2/9/97
Blairsville, GA
Brenden Kyle Rainey
7/30/79 - 4/7/00
Fort Valley, GA
Joshua E. Ramsey
3/2/78 - 7/26/07
Winder, GA
Dustin Marshall Rawls
9/2/82 - 9/27/07
Katy, TX
Dylan Rhodes
7/26/05 - 9/15/05
Hampton, GA
Angela Dawn Ricci
7/21/82 - 4/3/02
Jonesboro, GA
Jeannie Lynn Roberts
10/01/69 - 10/12/87
Gainesville, GA
Wesley William Roberts
10/23/84 - 3/24/02
Pendergrass, GA
Cheryl Joy Rojek
2/24/80 - 7/27/05
Roswell, GA
Ryan Douglas Romanoski
11/01/71 - 4/5/03
Anaheim Hills, CA
Stephen L. Roux
8/11/70 - 9/12/95
Apalachicola, FL
Shawn D. Russell
4/11/71 - 8/7/99
Beaver, OK
Jason Anthony Sang
9/15/86 - 5/28/03
Portland, OR
Sarah Elizabeth Schildroth
9/24/03 - 11/28/03
Douglasville, GA
Brian C. Schuster
5/7/78 - 2/14/98
Jefferson, GA
Clayton Barrett Shadinger
2/8/79 - 1/1/97
Carrollton, GA
Evan Sheffield
6/12/81 - 6/23/04
Atlanta, GA
Allen Palmer Shugart
3/4/02 - 7/23/05
Suwanee, GA
Steven W. Simmons
3/24/70 - 10/19/99
Dallas, GA
Christopher Lee Simpson
8/22/78 - 5/9/95
Auburn, GA
Marina "Lelu" Slama
9/30/98 - 8/4/02
Powder Springs, GA
Tony Ray Smiley
5/17/86 - 6/12/02
Grant Park, IL
J. Daniel Smith
11/6/81 - 8/26/91
Tucker, GA
Matthew Lee Smith
9/17/81 - 6/22/98
Bowdon, GA
Tammy Renee Smith
3/29/81 - 1/30/03
Belmont, NY
Steven Smith
10/13/81 - 6/1/04
Douglasville, GA
Steven Gerard Smith
5/14/82 - 6/23/02
Kennesaw, GA
Brandon James Springer
3/9/81 - 9/6/03
Dawsonville, GA
Jessica Lee Spiro
3/30/83 - 12/17/06
Euharlee, GA
Jamie Arin Stefanko
12/4/79 - 1/27/01
Apalachicola, FL
Edward Stempien
8/24/51 - 2/2/94
Snellville, GA
Shawna Louise Nicole Stevens
2/6/82 - 11/8/97
Petal, MS
Reesin N. "Chip" Swilley, Jr.
3/18/69 - 8/9/85
Atlanta, GA
Nathanael Tate
2/24/04 - 6/2/06
Lawrenceville, GA
Jim Taylor II
7/26/72 - 5/20/91
Williamsburg, KY
David Teddlie
12/5/79 - 3/22/99
Decatur, GA
Christopher Thomas
9/12/89 - 11/19/05
Okolona, MS
Amber Leigh Thompson
5/16/81 - 12/14/01
Douglasville, GA
Melanie Brooke Thompson
5/11/79 - 2/15/99
Tuckasegee, NC
Evan Throckmorton
2/7/83 - 4/21/04
Douglasville, GA
Michelle Stanton Turner
7/25/03 - 12/19/05
San Antonio, TX
Amy Elizabeth Uhland
10/10/74 - 8/25/97
Lawrenceville, GA
Tiffany Marie Varana
10/15/84 - 3/14/05
Dawsonville, GA
Corey G. Vaughn
7/3/80 - 2/26/02
Jacksonville, AR
J.J. Wade
9/22/72 - 1/26/04
Carrsville, VA
Michele Wade
12/31/76 - 5/20/04
Carrsville, VA
George Edwin "Eddie" Walls
2/18/74 - 5/30/90
Alexander City, AL
Kalie Watkins
4/5/89 - 2/10/01
Burkburnett, TX
Jason Webb
3/28/76 - 9/21/92
Walker, LA
Matthew Weeks
6/4/99 - 7/7/01
Ringgold, GA
Glovelis "Pat" Wells
8/9/72 - 8/14/97
Brandon, MS
Kristina "Nina" Westmoreland
9/24/79 - 5/11/95
Cottage Grove, MN
Aaron Geddings Williams
8/3/98 - 12/16/00
Summerville, SC
Philip Brett Williams
8/23/84 - 11/30/97
Rome, GA
Jason Wilshe
5/6/91 - 1/25/03
San Diego, CA
Randy Wright
7/9/65 - 7/31/78
Clarksdale, GA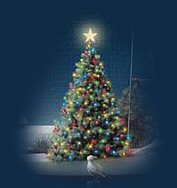 "STAR-LIT NIGHT"
10/31/07

"Star-light, Star-bright - Oh, how I wish tonight….."
Oh, the joy, the bliss of our children so loved,
Now they sparkle in heaven with the stars above.
Their legend lives on with charm and with grace,
As they shine down on us from their heavenly place.
Some nights are so dark when our hearts fill with pain,
Then we think that we can never be happy again.
For how can we live on with this pain that we feel?
Since our children died, life now seems so unreal.
We hear all the sounds on the earth below -
But our senses are numb because we still miss them so.
Our hearts are so heavy - our minds cry out, "Why?" -
The children we love and miss - now reside in the sky.
The stars, like our children, shine down with promises of love,
Their glory sometimes hidden by the clouds above.
But, we know they are still there even though we can't see.
Because their brightness shines on inside you and me.
Now, the stars beckon to us as they twinkle above,
Our children singing messages of hope and of love.
They are cradled high above us twinkling so bright,
Shining down beams of hope with the STAR-LIT NIGHT.
~ By Faye McCord, TCF / Jackson, MS - in honor of All Bereaved Parents ~
~And in loving memory of my son, Lane McCord (1/26/65 - 9/13/98) ~


Billy's Orion
Three stars lined in a row
Orion a beautiful name it is
A twinkling symphony
Many light years away
Sending rays of love
Rays of laughter
Smile and hope
A distant light so far yet so near
Caressing the star ever so gentle
Whispering "Billy my son I love and miss you dear"
by Carol Hawley, Jakarta, Indonesia
In Loving Memory of Billy Hawley (March 1983 - September 2004)


"The stars twinkle,
The night is clear,
It's so dark,
But you feel so near.
A ray of hope,
From a star so bright,
Just like my memories of you,
That feel so right.
Like the star ,
You I can't touch,
But like the star,
You still mean so much.
Sprinkled throughout the heavenly skies,
The stars light up the night,
Your life was like a candle snuffed out too soon,
But we'll keep alive your light!"
Written by David Haddock Clinton, MS 11/17/2007
In memory of Bonnie Catherine Haddock (02/06/1985-08/13/2002)


Light of Love
Star of morning, star of night
Sending down your heavenly light.
Shining down on us below
Comforting us with your heavenly glow.
As we light this Christmas tree
Your beacons of light will help us see.
Each star aglow from above
Is a symbol of our children's love.
So shine on down give us peace
As this tree gives our memories release.
Each star you see upon this tree
Is a beacon of love for all to see.

Hope you and yours have a blessed holiday
Sheila Simmons, Dallas, GA
In Loving Memory of Steven W. Simmons (March 24, 1970 - October 19, 1999)



One Small Star
~from the album "Remembrance" by John McDermott
When I need to feel you near me
I stand in this quiet place
Where the silver light of countless stars
Falling on my face
Though they all shine so brightly
Somehow it comforts me to know
That some that burn the brightest
Died an eternity ago
Chorus
But your light still shines
It's one small star to guide me
And it helps me to hold back the dark
Your light's still shining in my heart
I'm learning how to live without you
And I never thought I could
And even how to smile again
I never thought I would
And I cherish your heart's memories
Cause they bring you back to life
Some caress me gently
And some cut me like a knife
Chorus
Can your soul be out there somewhere
Beyond the infinity of time
I guess you've found some answers now
I'll have to wait for mine
When my light joins with yours one day
We'll shine through time and space
And one day fall on a distant age
Upon some stranger's face
But your light still shines
It's one small star to guide me
And it helps me to hold back the dark
Your light's still shining in my heart
Your light's still shining in my heart
The album "Remembrance" by John McDermott is available for sale on Amazon.
The following link will take you directly to it.
Remembrance by John McDermott

MY GUIDING STAR
Dear Mother I've come to Heaven
To be your guiding star
I know that you're longing to meet me
No matter where you are.
I know you have troubles and trials
And the way seems dark and lone
But this little star will be shining
To guide you safely home.
When your cross is hard to carry
And your strength seems to fail
I'll try hard to shine brighter
Mother keep your eye on the rail.
When you get to chilly Jordan
Don't be afraid to cross
I'll shine brighter than ever
Mother keep your eye on the cross
Written by: Estella Stormant Nov. 22, 1916 - Dec. 31, 2000
In memory of her son "Glen Terrell Stormant"
A friend gave me this and many other poems shortly after my daughter Jessica passed away she knew her Mothers poems would bring me comfort.
Her Mother wrote poetry through high school and continued writting through her years in a nursing home.
This poem was written at some point after the passing of her youngest child.
Sandy Spiro
Mom of
Jessica Lee Spiro 3-30-83 -12-17-06
Pat Spiro
Drew Spiro

The Brightest Star
Stars shining brightly in the night sky
Eyes full of wonder fixed on high
Gazing, I knew your question would come
You'd ask, "Mom, tell me, where did I come from?"
I would look to the heavens so wide and so far
At the millions of brightly, shining stars
I would point to the brightest one
Then I would say, "see that bright, twinkling one?"
"That's where you're from."
You were sent from the heavens up above
You brightened our world, we were filled with love
We couldn't have asked for anything more
You were everything we had ever hoped for.
But the sky had grown dim
And you were soon called by Him
For your time here was borrowed
So much to our sorrow.
Now we look to the heavens
For that star shining bright
And we know when you see it --
That is your light
Letting us know everything is alright......
Until we're together in heaven forever.
written by Nicky Docu's mom.....Christine Docu
In Loving Memory of Nicholas "Nicky" Docu (June 25, 1993 - October 21, 2003)
Bronx, NY

A Star Named Angela Dawn
A radiant star twinkles,
it sparkles every night.
It's far beyond my reach,
but within my earthly sight.
Its name is Angela Dawn,
I named it after you.
I humbly invite the world tonight,
to seek its lovely view.
For that star is a reflection
of the beauty of your smile.
Brilliantly captured in the heavens,
softly revealing its magical perfection.
Tonight I'll search the moonlit sky,
for my darling Angela Dawn.
And when I find you, our souls will connect,
and I'll know you're not really gone.
For that star of which I speak
is proof that you were here.
Although my arms can't hold you,
I know you're always near.


Love eternally,
Mom
Written by Linda Freeman
In Memory of Angela Dawn Ricci
7/21/82 – 4/3/02
Jonesboro, GA

My Star Dustin Marshall Rawls
1982 - 2007
A star so bright, as your smile
A star of light twinkling in your eye
This star I see each and every night
This star stands out for me to see
And I know is watching over me
The love it brings to my heart
I know will never be torn apart
Up above so high,
I can not reach to the sky
I know my star can feel my touch
I know my star knows I love him so much
I want to invite all to see My Star as he watches over thee
His smile like a magnet and heart of gold
A light so bright for all to see
Please share the joy this star brings to me
With all my love and my heart,
Love Mom
~submitted by Patti Rawls, Katy, Tx
~It's about love -

A gentle wind blew cross the land
Reaching out to take a hand
For on the winds the angels came
Calling out my best friend's name.
Left behind, were all the tears
Loving memories of the years
Of joy and love, a life well spent
And now to God a soul is sent.
On angel's wings, a heavenly flight
Past the stars, and towards the light
To those who weep, a life is gone
But in God's love, 'tis but the dawn.
~submitted by MaDonna Cowart
In Memory of Andrew Jason Cowart
8/10/83 - 9/07/99
Hoschton, GA


""OUR KANDA CHRISTMAS STAR""

Where are you,
our
KANDA STAR LIGHT?
The brightest you are,
Christmas Star Lit Night.
And will your Angelic Beauty Glow
in the
Magic of the Christmas snow?
Our Giggling
""KANDA""
Christmas Star,
guide and lead us to where you are.
As we,
your loving family view,
the
Christmas Rays
that shines from you.

written by Dianna Jacobs
2007

IN LOVING MEMORY OF KANDA MICHELLE JACOBS
5/24/73 - 4/13/04
Dad and Mom
Brother - Jerrin
Nephew and Niece - Aaron and Ashley
We will love and miss you always
OUR FOURTH CHRISTMAS WITHOUT YOU
December 2007

Stars

The stars are like my memory of you
They seem so small and frail up
In the blue
Yet they may each be greater than
The sun.

And now, as faint as they appear
To be,
The dimmest star, the smallest
Memory
Is full of shining beauty,
Every one.
By Sascha Wagner

Michelle ~ My Star

Twinkle, twinkle
Michelle Star
Mama knows
Just where you are..
Up above the Sky
So High
My brightest Star
In the night..
Twinkle, Twinkle
Michelle Star
Mama knows just
Where you are...
CindyJo Greever © 2007
Mama to Michelle Marie Greever
8/24/84 ~ 11/5/93
Colbert, WA

~from the Poem "The Promise" by Genesse Bourdeau Gentry
In her book Stars In The Deepest Night
Memories of you, like shining stars
in the patterns of my soul,
are beacons flashing light and love,
and with them I am whole.
In your honor, I live my life,
now living it for two.
Through all my life, you too will live,
You lived, you live, you do.

To order a copy of Stars In The Deepest Night
by Genesse Bourdeau Gentry

My Little Shining Star
In our hearts, Christopher is not gone,
And he never will be.
Christopher shines on, as dazzling as ever,
Smiling that beautiful smile,
laughing that marvelous laugh that could fill a room,
giving us more joy than we ever thought was possible...
A wonderful shining star that will shine forever for us,
We will always cherish his light,
And we will remember him forever.
His extraordinary brilliance cannot be turned off ever.
The bright light of Christopher's wonderful spirit will shine on always,
Carried deep within my heart.
I'll see my bright shining star again one sweet day,
But until then, the truest love I hold inside forever
For you, sweet little Christopher,
Because only you can light up my life ever again.
With all my love, forever and always,
Your Mommy
Written in loving memory of my son Christopher Ronald Faller
for his 12th birthday,
May 7, 2002
by Maria Faller
Pittsburg, PA

Do Not Stand at My Grave and Weep
Do not stand at my grave and weep,
I am not there, I do not sleep.
I am a thousand winds that blow;
I am the diamond glints on the snow.
I am the sunlight that ripened grain;
I am the gentle autumns's rain.
When you awaken in the morning's hush,
I am the swift uplifting rush,
Of quiet birds in circled flight.
I am the soft star that shines at night.
Do not stand at my grave and cry.
I am not there; I did not die
by Mary Elizabeth Frye

Perhaps they are not stars in the sky but rather openings in the heavens where our children shine down to let us know that they are happy

Stars

The stars are like my memory of you
They seem so small and frail up
In the blue
Yet they may each be greater than
The sun.
And now, as faint as they appear
To be,
The dimmest star, the smallest
Memory
Is full of shining beauty,
Every one.
By Sascha Wagner

Remembering our children and my Marjorie Mae ... sunrise April 13, 1966 ~ sunset August 19, 2001


Stars of Heaven
Stars of heaven shining oh, so bright
Sending messages of our children that bring us delight
Filling our hearts with love from above
Sent to us each on the wings of a dove
The twinkling and glittering stars sent with their love...
Gently and lightly tickling our heart strings
Echoes of days gone by with whispers of singing
Our angels of heaven on many clouds are winging
They dance, they prance in the star light they are bringing...
Sending us joy from the universe yet not known
New colors of bright star lights for our delight will be shown
For they are sending us a glimpse of their heavenly home
By thrusting out stars beams of the heavens so vast
We can see them in glory and the perfect love they do cast...
Our children are those heavenly stars as we look afar
Into the unknown as far as we can see
The making of new hope and may we all agree
That the cascade of the array of majestic colors poured over eternity
Has masterfully been painted for all of us mourning we see
Our children in each sunbeam, and every wind that blows
The star lit crystal in each lacy flake of snow...
We catch them in the glitter and as the sun shines down on them to earth
Remembering the gift from the star lit heavens that came to us at birth
Our children are all aglow with the kaleidoscope of many colors in the star lit skies
We are watching them from a distance and their love for us still lies
In our hearts forever and we never say goodbye's...
For we will meet them each new day even with each tear or sigh
They are but a moment it time away for the star lit night
Sends us moonbeams as the clouds drift away give light
To the smiles of each bright star in heavens holy light...
Remembering our precious children gone just out of sight
For we see the star lit heavens shining with their smiles so bright
We are thankful for the moments we spent with them even if a few
For they are all shiny ornaments in heaven and now are all brand new...
Each child's name is written in the starry heavens above
God sending down from heaven His great, tremendous and immense love
To each awaiting the new moment of meeting
Our children we are greeting...
In the star lit galaxy so full us ecstasy we will shout with glee
That we have reached the starry place of contentment
And with our children we will be eternally
On one Star Lit Night so bright...
God so bless you all in your journey!!! Norma Jean mom to Marjorie Mae


"In one of the stars I shall be living. In one of them I shall be laughing. And so it will be as if all the stars were laughing, when you look at the sky at night . . .
You -- only you -- will have the stars that can laugh!"
~ The Little Prince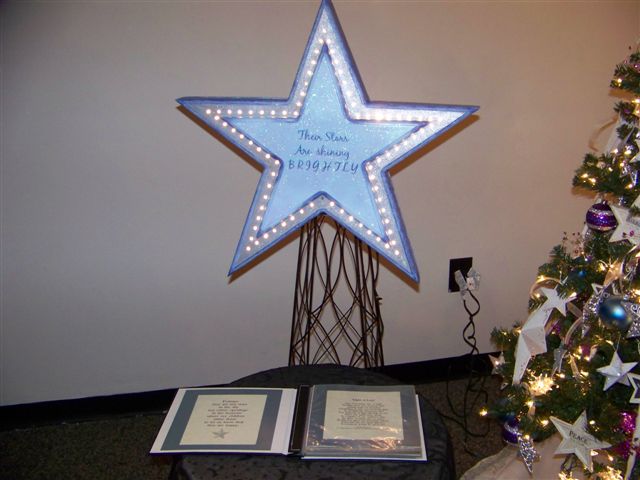 Memory Trees from past years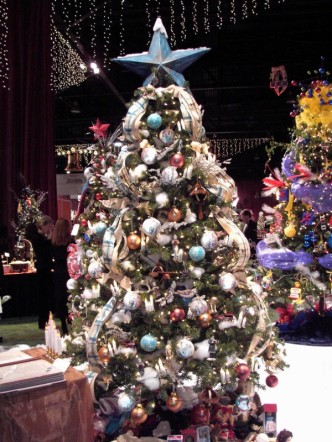 2006 Memory Tree
"Christmas Past"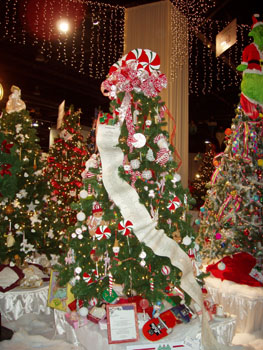 2005 Memory Tree
"Twas the Night Before Christmas"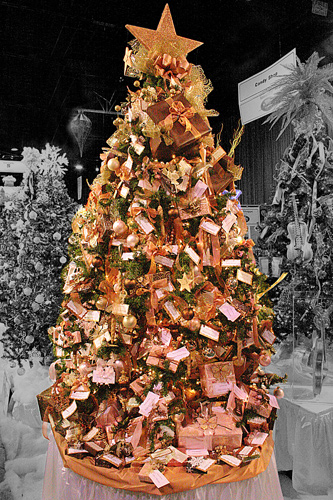 2004 Memory Tree
"Gifts from Above"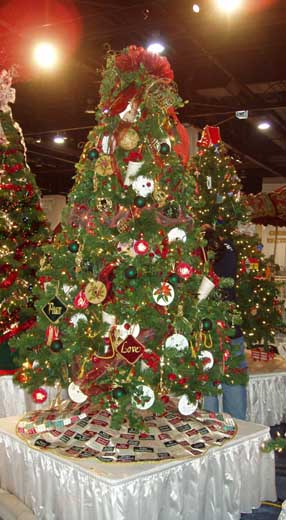 2003 Memory Tree
"Sounds of Christmas"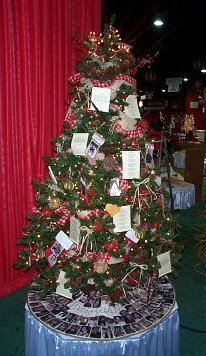 2002 Memory Tree
"Memories"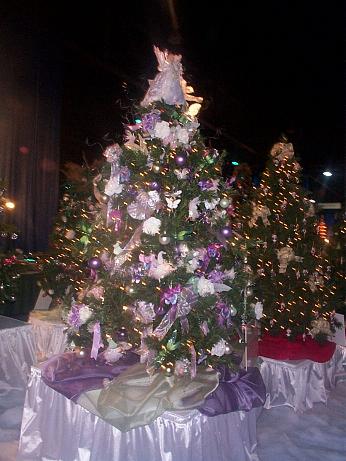 2001 Memory Tree
"Sign of Hope"




Permission granted to The Compassionate Friends of Atlanta to use Moon and Back graphics and Alan Giana art work.