The Compassionate Friends

Gwinnett Chapter




Lawrenceville Chapter - 7:00 PM on the third Thursday of every month.
The Fountain Church at 1985 Old Fountain Road, Lawrenceville, 30043 Building 100


Contact June Cooper 770-757-4927 or Email

For more information or to subscribe to the Gwinnett Chapter Newsletter please email
Monthly support group meetings are the heart of The Compassionate Friends. These gatherings provide a safe and caring environment in which bereaved parents and siblings can talk freely about the emotions and experiences they are enduring. Parents receive the understanding and support of others who have "been there".

We are here to provide hope and encouragement, understanding & friendship as we all travel the grief journey. Our lives have been turned inside out & upside down and we are the walking wounded who must now figure out where to go from here, how to put our lives back together to some degree, and share coping skills and survival techniques. Together we can share our ideas and emotions, the questions and trials and tribulations that we have found ourselves in the very unwelcome world of bereaved parents. The death of a child of any age, from any cause, is a shattering experience for a family. The Compassionate Friends understands that grief for a child lasts longer and is more intense than society commonly recognizes. Other grieving parents can offer empathy and understanding of this loss, while also recognizing that each person's grief is unique.

Every month we have a Birthday Table and you are warmly invited to please come share your child's birthday with us when his/her birthday is that month. This is your chance to tell us a favorite story, or share a poem or thoughts that either you or your child wrote, or whatever remembrance you choose in memory of your child. Our child's or grandchild's or sibling's birthday will forever be a very special day and we at TCF know how important that day is and how helpful and healing it can be to share with others.

Please plan on attending the meeting of your child's birthday and filling our Birthday Table with pictures and/or mementos. You are also more than welcome to bring his/her favorite snacks




Lawrenceville (Gwinnett) TCF Brunch 10:30 am on the 1st Thursday of every month,
IHOP, 955 Lawrenceville-Suwanee Road, Lawrenceville 30043

Patty Key 770 833 9967 pattyinatlanta@yahoo.com

View Pictures - Picnic - 2002
View Pictures - Picnic - 2001
View Pictures - Picnic - 98
View Pictures - Picnic - 97




Memory Candles
As we light these five candles in honor of you, we light one for our GRIEF, one for our COURAGE,
one for our MEMORIES, one for our LOVE and one for HOPE.

This candle represents our GRIEF. The pain of losing you is intense.
It reminds us of the depth of our love for you. "Our joy and our sorrow are inseparable."

This candle represents our COURAGE - to confront our sorrow - to comfort each other - to change our lives. "Even like a chain we are as weak as our weakest link. This is but half the truth.
We are also as strong as our strongest link."

This light is in your MEMORY - the times we laughed, the times
we cried, the times we were angry with each other - the silly things you did, the caring and joy you gave us. This light is also for the memories that never were. Even though our memories can bring pain, in time we will look upon our memories of you as yesterday's gifts to the heart.

This light is the light of LOVE. As we enter the holiday season day by day, we cherish the special place in our hearts that will always be reserved for you. We thank you for the gift of your love. We thank you for the joy your living brought to each of us.

This candle is the light of HOPE. It reminds us of love, and memories of you that are ours forever. May the glow of the flame be our source of hopefulness now and forever. We love you.

Children's Memorial Garden
Gwinnett Chapter of The Compassionate Friends
Rhoades Jordan Park, Lawrenceville, GA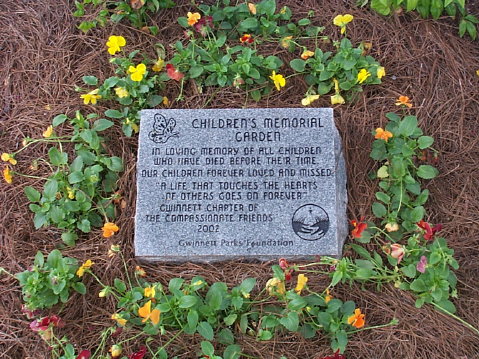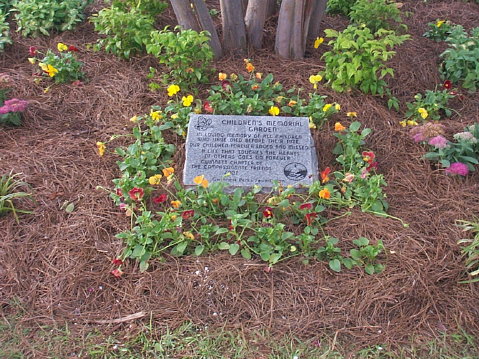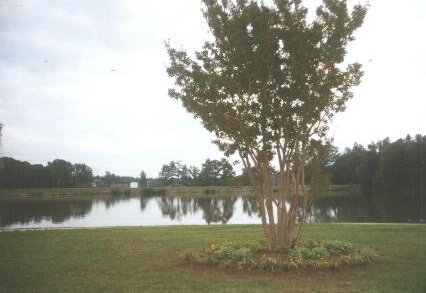 Home | Wall of Memory | Meeting Times | Suggested Reading