Billy Hawley
Memories and Reflections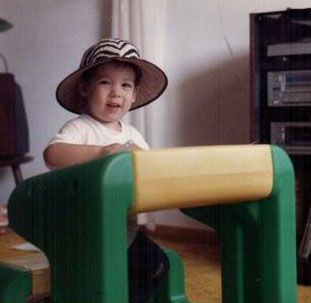 March 26, 2005
Dear Billy,

Tomorrow is Easter and it brought back memories for your dad and I. I remember waking up at about 5.30 am with a panic. We were supposed to hide the Easter eggs before we went to sleep, but we forgot. So here we were in South Bend, Indiana, your dad and I bumping into each other, laughing softly trying to hide over 80 Easter eggs in the dark. Eventually we got it done and went back to bed. In the morning both you and Alan were up and were ready to look for the eggs. Alan was so quick and found many eggs without help. On the other hand you being 3 and 1/2 years old were slow finding the eggs. We made Alan slow down on purpose so that you could catch up and eventually you did. It was a good morning and we had pancakes for breakfast. We all will miss you this Easter and hope you are celebrating this day with other angels in heaven.

Missing you very much,
Love,
Mom,Dad, Alan and Lucky.

March 15, 2005
Dear Billy,

All of your family members are thinking of you and missing you so much today on your birthday. It is still so hard to believe that you are not here with us, but I somehow know that you are still smiling and sharing this day with those who love you so much.

I wanted you to know that to remember your birthday, I asked your Mom to buy a special plant for your memorial garden that is as beautiful as the memories we all have of you. You will forever be in our hearts.

With love always,
Aunt Faith

Faith Hawley (Lorton, VA )

March 15, 2005
To a wonderful son and brother, companion to his pet Lucky!

Happy 22nd Birthday Billy! Your dad, brother Alan, Lucky, and I missed you very much and would love to have you home to celebrate this important day together with us. I especially miss you the most because we celebrate our birthdays together always. Well I am grilling steaks and baked scalloped potatoes. Dessert will be chocolate brownies. Then we will watch American Idol at 8pm. Eventhough you are unable to be with us physically we know you are with us in spirit.

If there's a heaven I hope some kind folks and young adults help you celebrate your birthday the way you want to. I am sure you are happily zooming around in your favorite blue car.

Happy Birthday Billy! Your 1st in heaven.

We love and miss you,
Mom, Dad, Alan and Lucky!

Carol Hawley (Norcross, GA )

March 13, 2005
Billy,
I thought of you again today. I know your birtday is coming up this week and I wish I could call you up and wish you Happy Birthday! It seems I always missed your birthday (Alan's was so easy to remember--being near Christmas.) I'm sorry about that.

I often reflect on, and will always treasure, the short time we had together. Especially the trips we did in Kenya--to Eldoret, Kakamega Forest, Lake Baringo and Bogoria. Do you remember swimming in Baringo? I could not stay in long--the water was muddy and I was afraid of crocs and hippos--even on the island! But Bogoria--such a dramatic landscape! The geysers, hotsprings, mud formations and the beautiful flamingos spread away as far as the eye could see! Or how about the Giraffe Center in Nairobi--I have some great photos of us all there!

Anyway, I wanted you to know I remember the good times and you are very much missed. Happy Birthday, Billy!

Love, Josh

Joshua Hawley (San Antonio, TX )
jshawley@yahoo.com

February 22, 2005
I finally found you Billy, how adorable you are. What a lovely
tribute from your mom.
Rest in Peace,

Terrie Whiteman/Joey, your friend in heaven

Terrie Whiteman (Harleysville, PA )

February 14, 2005

Dear Billy,

Wishing you a Happy Valentine's today and wondering where you are? Wondering if anyone celebrate with candies, flowers, cards up in heaven? Missed you very much especially today. Would love to have you home to eat. Will fix you a fine dinner. Today at the Botanical Gardens there were many sub-tropical frogs on display in the encased area. They are so beautiful with many colors and patterns on their body. You would love them. I met Olga who told me she made a donation in your name to the Salvation Army. She's a sweet lady. She is also keeping your photo in her purse. She said she remembered last year's Valentine you bought me flowers. I do not need to receive flowers from you just a visit or a sign from heaven that you are thinking of us and for you to know we miss you very much. I love you my dear sweet Billy! Love, Mom

Carol Hawley (Norcross, GA )

February 4, 2005

Dear Billy,

Sending you a short poem that describes you and how I feel today.


Poem by unknown author.

The tide recedes but leaves behind
Bright seashells on the sand
The sun goes down but gentle warmth
Still lingers on the land
The music stops and yet
It echoes on in sweet refrains
For every joy that passes
Something beautiful remains

Miss you Billy, till we meet again.
A kiss and a hug,
Mom.


Carol Hawley (Norcross, GA )
February 2, 2005

Dear Bill,

It has been a dreary day with rainy grey skies and cold. Sending a poem written by Joy Curnutt tittled Dreams. Very poignant, sad and true for thats how your brother Alan, your Dad and I feel each time we have a dream of you. Missing you yesterday, today, tomorrow and forever more. Love you Billy very much. Love, Mom.


Dreams
by Joy Curnutt.

You were here the other night
So alive and well it seems
But I awoke and then I knew
You were only in my dreams
The tears then came so quickly
For the time with you was brief
You were alive and talking
If only in my grief
I heard your voice and touched you
As if you were with me
But I awoke and realized
This was not reality
So I'll take my dreams whenever they come
And keep them close to my heart
Cause in my dreams you are alive
And we are never really apart


Carol Hawley (Norcross, GA )

| | |
| --- | --- |
| | January 31, 2005 |
| | I have such beautiful memories of my beloved nephew Billy. His radiant smile and deep brown eyes would literally light up any room and made you feel so good to be there with him. Even during Billy's most trying moments in life, he stopped to think about others and called me to see how I was feeling. I also remember his love of pancake breakfasts when we visited in Kenya! Billy will always be mourned and missed by this grieving Aunt. |
| | Faith Hawley (Lorton, VA ) |
January 31, 2005

We do not need a special day
To bring you to our minds
The days we do not think of you
Are very hard to find
Each morning when we awake
We know that you are gone
And no one knows the heartache
As we try to carry on
Our hearts still ache with sadness
And secret tears still flow
What it meant to loose you
No one will ever know
Our thoughts are always with you
Your place no one can fill
In life we loved you dearly
In death we love you still
There will always be a heartache
And often a silent tear
But always a precious memory
Of the days when you were here
If tears could make a staircase
And heartaches make a lane
We'd walk the path to heaven
And bring you home again
We hold you close within our hearts
And There you will remain
To walk with us throughout our lives
Until we meet again
Our family chain is broken now
And nothing seems the same
But as heaven calls us one by one
The chain will link again.

Author: Connie Dyer.

Dear Sweet Billy,

Your mom is no poet but this poem written by Ms.Dyer says exactly how our hearts feel. May you have peace and happiness wherever you may be. Your dad, Alan and I missed you everyday. Love. Mom.


Carol hawley (Norcross, GA )