Lance's Story
as told by
HIS MOM

Lance was our middle son of our living children (Scott also listed on the Memory Wall, died 1 day after his birth in 1971) . Bryan is his older brother, by 17 months, and Sean his younger brother was born in 1973. Lance came into this world at a great rate of speed (just 4 minutes after arriving at the hospital, in Cleveland Ohio) and from that point on he never slowed down.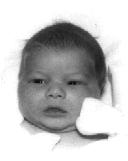 Lance Robert Malone
March 3, 1970
9lbs. 1oz.
Lance loved to do daring things. When he was just 18 months old his daddy was cleaning the gutters on our tri-level home in North Ridgeville Ohio. The next thing he knew Lance was on the roof with him. Having climbed up the ladder and through the rungs across the roof he came to see what daddy was doing. Oh great! How do you catch an 18-month-old, without making him run the other way? Especially when he is two stories off the ground? Easy, just ask him to come see what daddy has!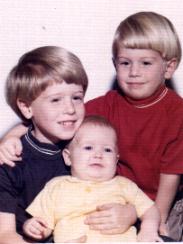 1973
Bryan,Sean,Lance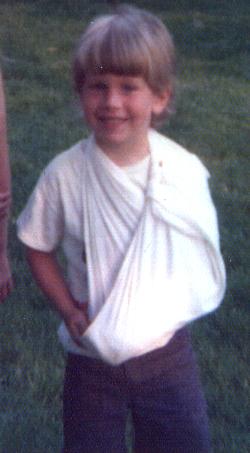 Trees were always a challenge that Lance couldn't resist. There was the apple tree in his Gramma Malone's back yard, that he climbed at 5 years old and promptly fell out of and broke his arm (by the way, the tree was cut down the next week by Boppa Malone, upon orders from Gramma, so no other grandchildren would do the same thing). Then, when he was 6 he found a big tree in Michigan. That one looked so good he had to climb all the way to the top were the birds sit. Then he was to scared to come down. Big brother Bryan and a friend had to go most of the way up to bring him down.
Of course as he got older things got different. Now we were into bikes. It was always fun to see how
fast bikes could go down hills, until one day Bryan came home saying Lance had fallen off his bike and was hurt. Right, came the comment from us, tell him to come home and we'll fix him up. Well in a little bit we heard these moans of pain coming from outside and there was Bryan pulling Lance in the wagon with his leg hanging over the side BROKEN. Boy did we feel bad! So off we went to the hospital for a cast.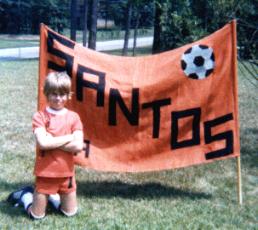 Running came next. He loved to run. Most likely that inspired his love of soccer. He played 11 seasons for GSA in Lilburn…mostly for Sonny Sheffield and the SANTOS. GO SANTOS, GO BIG ORANGE! This included one winter season. Talk about fun, the field was solid ice most of the time, and was cut out of a cow pasture with a big, big bull in it. The boys took turns in retrieving the balls that went over the fence. They wanted to see who could beat the bull. Run boys, run!
He helped his father with a special-ed soccer team on Sundays, at Knight Elementary. One Sunday while putting up the nets and getting ready for the kids to get there he and his brother Bryan were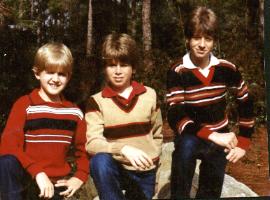 practicing. Lance was playing goalie and forget were he was. End result was the loss of both front teeth due to the goal post getting in the way. It was so nice of Dr. Huff, our dentist, to meet us at his office on a Sunday.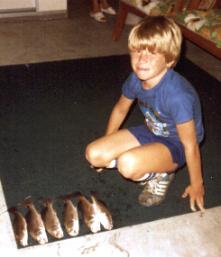 Lance's other loves while growing up were fishing and cooking. He loved to fish, which he did many summers in Bradenton, FL. at his Gramma and Grampa Gent. He and Grampa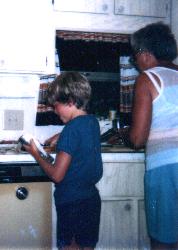 would fish and than Gramma would let him help cook'em. He loved to cook even as a very little guy always wanted to help mom. So much so that one Christmas you would have thought we had a little girl, because his Christmas gift was a play kitchen with all the fixin's. He loved it! Kept him busy for hours.
Well things changed as he got older. Climbing trees changed into climbing rocks, which his younger brother Sean was teaching him. Sean learned to climb when he went to camp in Colorado with Project SOAR. Sean attended SOAR for three years improving his climbing skills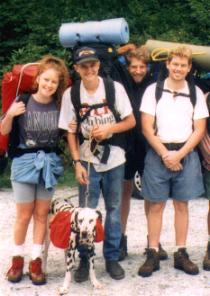 until he was the teacher. Lance decided that it looked like fun so it was. "Sean teach me." "Glad to bro." So camping and climbing became a past time for them. Bryan joined them when he could. Lance never did catch on as well as Sean (he is the monkey) but he loved it. Thank God there was never a fall there!
All three boys shared a love of dirt bikes which they rode in our front pasture when the horses would allow it. A summer vacation in Michigan allowed them to ride dirt bikes on trails in the woods. Mom and dad joined in, sometimes.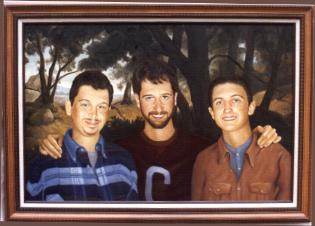 Lance attended South Gwinnett High School and continued his education at Dalfort Aircraft Tech where he graduated with honors in 1994. He held a FAA License as a Certified Airframe/Powerplant Mechanic. He was a young man enjoying life. He hadmoved into an apartment that he shared with his younger brother and was enjoying being on his own. Doing the things that made him happy and watching Notre Dame Football and NASCAR racing on TV whenever possible.
But Lance's true love was his bike. Even when he was little he always wanted the bike that was too big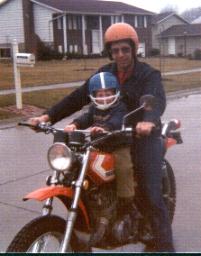 for him. The little ones just wouldn't do…from petal power…to engine power. Lance's first ride was on his fourth birthday, in North Ridgeville, Ohio with our neighbor and best friend Paul Speer. His first road bike came when he turned 16, a Honda Rebel 250. He bought a bike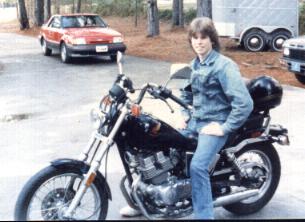 instead of a car like most teenage boys. He use to get so mad when he rode because Snellville's finest would always stop him. They said he never looked old enough to drive. He kept that bike for a couple of years until he found that an enclosed vehicle was more practical during winter months. So he sold the bike and started driving a truck, but his love was still there and before long the itch came back.
On to his second bike...another Honda . This time it was something they call a crotch rocket, you know, the ones you almost lay down on to ride. In good weather he would ride it to work. In bad weather he drove his Hyundai Scoupe. He kept this one until he blew the engine up (in fact we still have it). He then went for about a year without a bike. But Lance loved riding, the freedom, the excitement and yes even the speed of a motorcycle. He just couldn't stay away from them so.....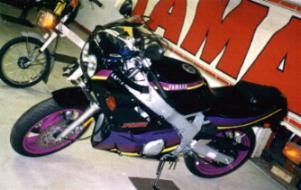 He bought his PRIDE AND JOY ...... It was purple, purple for freedom the freedom he felt while riding. I never saw anyone wash something so often. It seemed like he was either washing his bike or his car every other day. He kept his bike at our house and would come to get it when weather permitted riding. But that was not to last. On May 29, 1995, Memorial Day, just two months after buying his bike and two days after picking it up from our house it all came to and end. The bike and Lance were no more. In 3 short seconds it was over and the life of our 25 year old son was lost due to the negligence of another driver.
What do I say now? The story's over, there is no more and never will be any more to tell. Lance was not the "perfect" child. He had his ups and downs while growing up, but he was our son and we loved him....He never knew exactly what he wanted which gave him trouble, but he was our son, and we loved him.....When he was in his teens he got into trouble with the law and spent time in jail. But he was our son, and we loved him.... He was trying to pull his life together, and finely knew what he wanted out of life. He went to school, learned a trade and was starting to have fun. Putting all the bad times behind him learning to live as a productive adult and teaching his younger brother the rights and wrongs of life. He is deeply missed by his family, Bryan, Sean, Jennifer and Devin (his new nephew) His grandparents, and Pat and I. For he was our son, a brother, and a grandson and we loved him...............

The bumper sticker you see here has been printed in memory of Lance. It was printed with a purple background to symbolize the freedom Lance felt while riding (purple is the color for freedom, it was also the color of Lance's bike). So far there have been 46,250 distributed in and around the Atlanta area. Some have even gone to other states such as TN, FL, S.C., N.C., and AL. IL. CA. AZ. TX, and others. We hope it will help heighten the awareness of motorcycles on the road, so others will not have to suffer the loss of a loved one.


LANCE
RIDE HIGH: as high as forever
RIDE FREE: as free as the wind
RIDE SAFE: for God protects you now


There is nothing harder than being a bereaved parent. In the time since Lance's death we have learned how to survive, with the help of a great group call The Compassionate Friends. There are a few things I would like friends and family to know. Don't be afraid of us, we need you. We will not bite. Please talk about Lance, we need to hear his name, and know that you have not forgotten him. Yes we may cry, but those tears are healing. We are different people now. We will never be who we were before Lance's death tore our hearts and lives apart. What we really need is someone who will...
LISTEN....JUST LISTEN

IF I ask you to listen, will you
Listen with your heart, not with logic;
Listen with your soul, not with indifference;
Listen with your feelings, not with a story.

If I need hope, don't give me facts.
If I need encouragement, don't give me advice.
If I need solace, don't give me platitudes.
If I need to let it out, don't turn me out.

If I ask you to listen, will you
Listen with compassion, not with condemnation;
Listen with understanding, not with an argument;
Listen with love, not with a clock.

If I ask you to listen, will you
make me matter - not invisible;
Caress my loneliness and comfort my pain;
Keep my trust and not dishonor it.

I don't need to be right, but don't make me wrong,
I don't need a teacher, a critic or a judge;
I need freedom to say how I feel
And a friend who will listen...just listen.


And above all remember Lance, and when you do remember him remember him like this:
Remember me in quiet days
when raindrops whisper on your pane,
but in your memories have not grief
just let the joy we knew remain.

Remember me when evening stars
look down on you with steadfast eyes,
Remember me if once you wake
to catch a glimpse of a red sunrise

And when your thoughts do turn to me
know that I would not have you cry.
But live for me and laugh for me.
For when you are happy so am I.

Remember an old joke we shared.
Remember me when spring walks by.
Think of me when you are glad,
and while you live, I shall not die.
LANCE ROBERT MALONE 1970-1995
Lance, when I remember you. I remember the little boy with the infectious smile. The pre-teen with the zest for life. The teenager with questions on which roads to take in life, and the young man trying to make up for the wrong roads taken earlier. The young man that would do anything to help family and friends. Most of all I remember the most beautiful blue eyes that sparkled when you laughed. If only I could hear that laugh and see those eyes sparkle one more time.......... You have my heart and my love for they went with you that day in May.
Mom.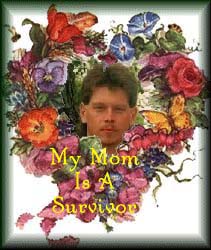 Lance's Memorial | Scott's Memorial |Wall of Memory | Compassionate Friends of Atlanta
---