The Atlanta Chapter of Compassionate Friends

39th Annual Candlelighting Remembrance Service
December 7, 2019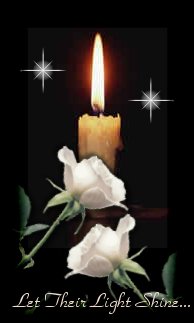 Please mark your calendars and plan to join us on Saturday, Dec. 7, for the 2019 Candlelight Service,
an annual tradition of the Atlanta Chapter of The Compassionate Friends.

The program begins at 7 p.m. in the sanctuary of the First Christian Church of Atlanta,
and will be followed by a reception in the Fellowship Hall.

Special Music begins at 6:30


Special Guest Speakers
Reception and Memorial Video to Follow in the Fellowship Hall

Please bring a dish or dessert to share.


To add your child or sibling to the memorial video to be played in the Fellowship Hall,
please email Wayne Newton wmnewton@comcast.net a high res picture of your child.

You can also mail the pictures to Jayne Newton, 808 Brentway Court Lilburn, GA 30047
and they will be returned the night of the candlelighting along with 2 free picture buttons
if you haven't already received your buttons.
Remembrance Candles

We are offering beautiful Remembrance Candles this year.

$30.00 each








Remembrance Candles
Deadline to Order Candles for Candlelighting is Nov. 25th

To sponsor a candle go to the following order form:

http://www.tcfatlanta.org/2019CandleOrderForm.pdf

Or order online at:

http://www.tcfatlanta.org/centerpiecedonationdataform.html



Our Children - Siblings - Grandchildren Remembered
Sponsors of our Annual Candle Lighting

Families Supporting our Annual Candle Lighting in Memory of their Children/Siblings:




| | |
| --- | --- |
| In Memory of Jozie Shelley | In Memory of Bianca Jovan Wallace |
| In Memory of Derek L. Brown | In Memory of Micki Henderson |
| In Memory of Jessica Dodge | In Memory of Andrea Tyrah DeBruhl |
| In Memory of Charles Pilgreen | |
| | |
| | |
| | |
| | |
| | |
| | |





To sponsor a Memory Candle go to the following order form:


http://www.tcfatlanta.org/2019CandleOrderForm.pdf


Or order online at:

http://www.tcfatlanta.org/centerpiecedonationdataform.html

---