TCF Candlelight Service set for Dec. 1 at First Christian Church of Atlanta

The 32st Annual Candlelight Service honoring the memories of our children and siblings will be held on Saturday, Dec. 1, at 7 p.m. at the First Christian Church of Atlanta. The church is located at 4532 LaVista Road in Tucker.

Note: Special music will be played, beginning shortly after 6:30 p.m. Please arrive in time to sign in, get your candles and programs and be seated no later than 7 p.m. This will be a very memorable program honoring our children and siblings.


Parent Speaker




By Cindy Durham
Candlelight Service Chair

The Rev. James M. Donald, who is associated with All Saints Episcopal Church in Midtown, will be the parent speaker at this year's Candlelight Service. Rev. Donald, pictured above with his wife, Kathryn, came highly recommended by a TCF member who said the Rev. Donald, who is a bereaved father himself, "has helped me through my grief in the loss of my son."

The 2012 Candlelight Service, an annual tradition of the Atlanta/Tucker Chapter of The Compassionate Friends, will be held on Saturday, Dec. 1. The program begins at 7 p.m. in the sanctuary of the First Christian Church of Atlanta, and will be followed by a reception in the Fellowship Hall.

Rev. Donald will be addressing the TCF Chapter in memory of his son, Jonathan Charles Donald (1972-1992).

Jonathan was the younger of the Donald's two sons by two and a half years. At age 10 he was diagnosed with Juvenile Diabetes and began the transition to insulin dependency. A remarkably disciplined young man, he mastered the dynamics of blood glucose monitoring and administering self-injected insulin several times a day. As a part of the journey into independence, Jonathan had the opportunity to enter the Virginia Episcopal School in Lynchburg for the last two years of high school, transitioning from home to being on his own. All of the anxieties of letting go and self-sufficiency were worked through both by Jonathan and his parents.

Jonathan then went off to the University of the South where he began the challenge of a pre-med major with a life goal of discovering a cure for diabetes. Home for Christmas in 1991, he connected with some of his buddies for a few days skiing at Snowshoe in West Virginia. There he came down with the flu, tried to take care of himself appropriately, but finally agreed to call for an ambulance at 3 a.m. on New Year's Day. On the way to the nearest hospital – 46 miles away – the extreme condition of keto-acidosis developed, which led to cardiac arrest. While medical personnel were able to stabilize him, he needed air transportation to the hospital at West Virginia University in Morgantown. There he arrested three more times before his parents could arrive. The medical team was not able to revive him.

Rev. Donald says, "The loss of a child is almost universally ranked as the worst human experience. So much comes to an abrupt halt and the strength to even undertake the simplest tasks can be overpowering. The journey forward can include so much of the journey back. The pace and the strength come in so many varieties."

He says, "The simple power of what mental health wisdom tells us is real; the journey is never around or away, the journey forward is through. Compassionate friends can make all the difference. We can try the journey on our own or we can try it together. Which will you choose?"

With a BA in history from St. Michael's College and an MAT from Notre Dame, Rev. Donald's first career was as a secondary school history teacher in Vermont. At age 31, he and his wife Kathryn took their family, including two sons, to New York City where he entered the General Theological Seminary in preparation for ordained ministry in the Episcopal Church. The next 30 years took him to positions in Washington, D.C., Charleston, S.C., Charleston, W.Va., and then back to Washington. In 2005 he retired as Rector of St. Columba's Church in Washington, choosing to move to Atlanta to be near their son Matt and his family in Decatur. At All Saints Church in Midtown, Rev. Donald is principally doing some teaching and liturgical functioning.


Sibling Speaker




One of the teen members of Kate's Club will be our sibling speaker this year. Kate's Club is open to all children and teens, ages 5-18, living in the Metro Atlanta area who have experienced the death of a parent, sibling, or primary caregiver at some point in their lifetime. Kate's Club strives to create an environment where grieving children and their families can re-engage in life.

Kate's Club programs for children and teens include: club outings, support services, an annual overnight camp that offers high-energy camp experiences paired with grief-support activities, and a series of collaborative partnerships with local schools and child-serving organizations. It also serves the families of Kate's Club members through grief education and extra support during the holidays.

We will have more information soon about the teen who will be addressing our Candlelight Service. Watch www.tcfatlanta.org for details.

For more information about Kate's Club, go to www.katesclub.org or contact (404) 347-7619 or info@katesclub.org.



Candles Will Be Provided
In addition to guest speakers and special music, a memorial candlelight ceremony will be held. Candles will be provided for all adults at the service.



Reception and Memorial Video
After the service, we will have refreshments and a memorial video presentation of our children and siblings in the Fellowship Hall.

We need your help to ensure your child or sibling is included. If you have not previously sent a picture of your child or sibling for inclusion in the slideshow, please send a picture as soon as possible to Dan Bryl. Even if you are unsure you are attending the service, please send a picture, so we will have it for future candlelight services. (The deadline to submit a picture is Nov. 15.) If you sent a picture in previous years, you do not need to send another photo.

Photo Tips:
The photo displayed on the slide will only be as good as the photo you send. If the photo is a quality color copy or a quality reproduction, there should be no problem.

Please include with the photo:
• Your child's name (how you want the name written under the picture on the slide). Please print carefully.
• Birthday and Angel date
• Your name and phone number

Photos should be scanned and sent to Dan by e-mail at danbetty23@tampabay.rr.com. Or, mail your photo to:
Dan Bryl
7428 Vista Way, # 106
Bradenton, FL 34202

Your photo will be returned to you unharmed.



Reception and Centerpieces
We also want to ask everyone who attends the Candlelight Service to bring something to share at the reception after the service. We look forward to seeing everyone and sharing this special evening with you and your child.



Reception and Centerpiece Candles

We also want to ask everyone who attends the Candlelight Service to bring something to share at the reception after the service. We look forward to seeing everyone and sharing this special evening with you and your child.



(Sample of 2012 Centerpiece Candles)

Chapter members also have the option of sponsoring a centerpiece or Poinsettia to be used in the decorating for the Candlelight Service.

If you would like to order a Centerpiece Candle or Poinsettia to be displayed at the Candlelight Service in memory of your child, sibling or grandchild, please place your order as soon as possible...no later than November 15th. We have a limited number of candles for sale so place your order early.



To sponsor a candle or poinsettia go to the following order form:

http://www.tcfatlanta.org/2012CenterpieceOrderForm.pdf



Or order online at:

http://www.tcfatlanta.org/centerpiecedonationdataform.html
While these Candlelight programs are very special, they also are expensive. We rely on contributions from our chapter members to help us with speaker expenses and other costs associated with this program. If you can send even a small contribution toward Candlelight Service expenses, it would be greatly appreciated.
Your contribution can be added to your candle/poinsettia order (see links above) or simply mailed to our Atlanta Chapter treasurer. Checks should be made payable to The Compassionate Friends and mailed to:
We hope you will join us Dec. 1 for this year's Candlelight Service.
Questions about the Candlelight Service can be addressed to Cindy Durham at (770) 938-6511 or cindy_durham@bellsouth.net.
---
Lighting Up the Heavens in 2002
For Breanna Marie.....our sweet angel......
For Children's Memorial Day Worldwide Candle Lighting December 10, 2000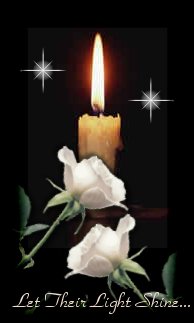 A special gift to all of us in Remembrance of World Wide
Candlelighting and National Children's Memorial Day - Dec. 8
Lighting Up The Heavens in 2002
by Kaye Des'Ormeaux
Soon it's time for the Candlelighting Ceremony.
It's scheduled for the 8th of December.
A precious time of the year for loved ones to assemble;
Sharing memories as they sadly remember.
Families will gather around & in each state.
Because unfortunately no state is left out.
Children are taken from us all over the world.
Grieving parents know what this is about.
They may have lost their child just recently.
Or lived years through the nightmare.
Either way, the pain is still fresh this day.
And they share it with others who care.
Some parents can't seem to survive their loss.
While others can't seem to comprehend.
But they all can come together to light a candle;
To memorialize their child with a friend.
They share memories of their child with others.
Meanwhile holding a candle they light.
I like to imagine that the Angels & your children
smile at the flames so beautiful & bright.
This Candlelighting Ceremony began years ago.
One mother sitting alone in her grief.
Now, it has become a part of so many hearts.
Hearts who say it helps them find relief.
So, no matter where you are or go this year,
I pray it truly gives peace to you.
And I pray that each one may feel their child's touch ...
While Lighting Up The Heavens in 2002.
~Kaye Des'Ormeaux~
Copyright 2002
KDezamo@aol.com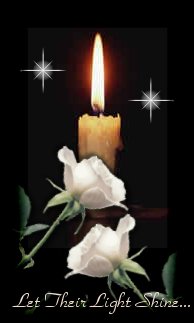 A flame shines in the darkness,
A single, flickering light;
A candle held in memory,
Dispelling the darkness of night.

A candle filled with memories,
It speaks a sweet child's name;
And shines a light for all to see,
In a single, flickering flame.

Soon other candles join the light,
Then thousands fill the sky;
Illuminating the darkness,
Proving love will never die.

Allison Chambers Coxsey
c2002
Allison's Heart...Poetry to touch the heart and soul
http://www.allisonsheart.com/index.html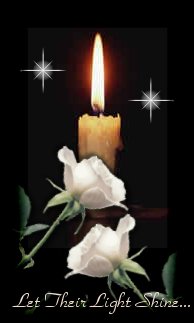 For National Children's Memorial Day and 4th Annual Worldwide Candle Lighting
December 10, 2000
As December's second Sunday
Does approach its 19th hour...
Special sunset for this one day
Of exquisite Candle Power!
Starting in the Land Down Under
As the strokes of seven chime,
Waves so bright—rip night asunder
"...that their light may always shine!"
Lustrous gleams worldwide are glowing,
Circling this earthly sphere,
Love, remembrance we're showing
For beloved children, dear!
Dancing lights each tell a story,
Represent a precious one,
Send them shimmering up to Glory,
Let our beams eclipse the sun!
Down concentric paths we're roaming
Moving o'er the grassy park,
Singing softly in the gloaming,
Whisper names 'round velvet dark!
Now, 'tis thru 'til next December,
Tho' the candles flicker still,
Sparkling stars we do remember,
In our hearts, and always will!
Vicki Douglas-Otto TCF, Tucson, Arizona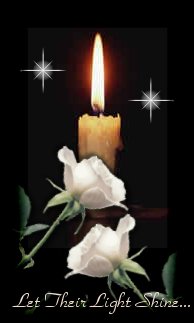 For Breanna Marie.....our sweet angel......
Like a candle your light dances on the wall of my heart
Contained within yet reflected without
And like this wax, my heart melts
Sadly, into a shape unknown
Like a candle your flame burns, silent and true
Constant, throughout me
And like this heat, my heart warms
Tenderly, to thaw the chill within
Like a candle your scent fills the recesses of my mind
Sweetly, fondly lingering
And like this fragrance, my heart awakes
Gently, to sweeten those surrounding me
Like your life, this candle flickers bravely
In the harsh winds of an unfair life
Leaving me to ponder
The rising of your soft silent smoke
So I shall light this candle for you
And remember still your light that shines within
Where no wind or rain or earthly trial
May ever extinguish your bright, warm, sweet flame
Eternally Yours,
Mom & Dada Colin & Corinne Wensley
Regina, Canada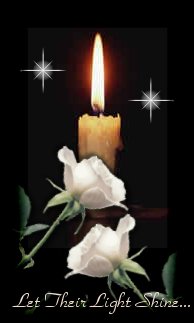 I lit a candle tonight, in honor of you
Remembering your life, and all the times we'd been through.
Such a small little light the candle made
until I realized how much in darkness it lit the way.
All the tears I've cried in all my grief and pain
what a garden they grew,watered with human rain
I sometimes can't see beyond the moment, in hopeless dispair
But then your memory sustains me, in heartaches repair.
I can wait for the tomorrow,when my sorrows ease
Until then,I'll light this candle, and let my memories run free
~written by Sheila Simmons, Dallas, GA
In Memory of Steven Simmons 3-24-70 - 10-19-99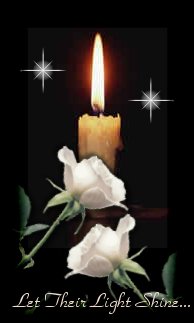 A Candle for Your Child
Today you will light a little white candle
and say aloud your child's name.
For one fateful day, your life was changed.
The holidays will never be the same.
Today you will light a little white candle
and hang an ornament on a special tree.
Who would have thought you would be in this place?
Sharing your child as a memory.
Today you will light a little white candle,
a small gesture to some others.
Here we share the pain of our loss,
with Mothers, Fathers, Sisters & Brothers.
Today you will light a little white candle,
and as you gaze into the flame,
may comforting memories flood your mind,
as you proudly say your child's name.
Today you will light a little white candle,
With us your compassionate friends...
For all of us know that though they're not here,
our Love for Them NEVER ends.
Tammy Tobac for TCF service 1996 in memory of my brother Tommy Dolby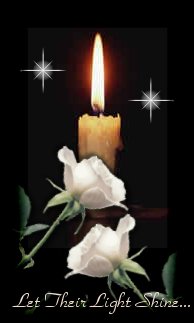 Candles flame in darkness,
flicker, steadily glow,
bringing light from shadows
and help to soothe us so.
Our daughter, like the candles,
gave our lives true light.
We use the candle's beacon
to connect us in the night.
As we light the candles,
our wish and our request
is that she'll see our signal
and know our love's expressed.
As her light joins our light
our worlds touch and flame
As we put the candles out
we softly say her name...

~written by Genesse Bourdeau Gentry,
from her collection of poetry, Stars in the Deepest Night - After the Death of a Child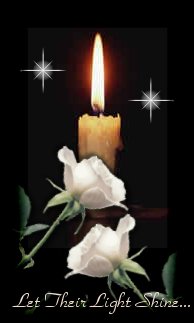 For Children's Memorial Day Worldwide Candle Lighting December 10, 2000
We light these candles in the winternight
Reminding our world of grief and loss.
We are a part of love, in tender league
With grievers everywhere a part of us.
A slow and shiny dance of candlelight
Now makes its way from hand to loving hand
For children who were once by our side
But have their home now in another land
The chain of candles sends its gentle glow
Around the planet as the hours pass
And every candle carries joyful tears,
A song of light to celebrate what was.
The children are with us, a friendly band,
They know the meaning of these candles best
They hear the love, they see the message move
Around the world, alive from east to west.
Let our candlelight remind the world
That all the children who have left this life
And all the children who are with us now
Are kindred spirits when they first arrive.
And as the candlelight sends forth its glow
'cross artificial borders man invents,
let our children say again
" we know that peace on earth must be what life intends."
Now in the sky, the peaceful stars behold
Not only what we do, but what we mean --
Be our memories new or scarred and old,
The stars will not forget what they have seen.
We light these candles in the winternight
Reminding our world of grief and loss.
We are a part of love, in tender league
With grievers everywhere a part of us.
By sascha - © 1999
Initially written for the Global Candle Lighting in Denver, at the request of Helen Holden, TCF Chapter Leader, Loretta's mother.
Reprint permission to The Compassionate Friends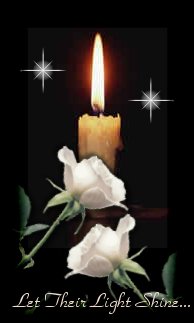 And I will light a candle for you.
To shatter all the darkness and bless the times we knew.
Like a beacon in the night.
The flame will burn bright and guide us on our way.
Oh, today I light a candle for you.
The seasons come and go, And I'm weary of the change.
I keep moving on, you know it's not the same.
And when I'm walking all alone, Do you hear me call your name?
Do you her me sing the songs we used to sing?
You filled my life with wonder,
Touched me with surprise,
I always saw that something special deep within Your eyes.
And through the good times and the bad,
We carried on with pride.
I hold onto the love and life we knew.
~Paul Alexander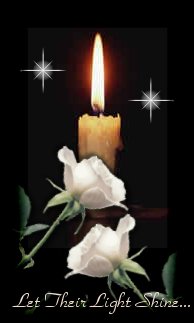 Lights of Love
Can you see our candles
Burning in the night?
Lights of love we send you
Rays of purest white
Children we remember
Though missing from our sight
In honor and remembrance
We light candles in the night
All across the big blue marble
Spinning out in space
Can you see the candles burning
From this human place?
Oh, angels gone before us
Who taught us perfect love
This night the world lights candles
That you may see them from above
Tonight the globe is lit by love
Of those who know great sorrow,
But as we remember our yesterdays
Let's light one candle for tomorrow
We will not forget,
And every year in deep December
On Earth we will light candles
As................we remember
Written by TCF Member Jacqueline Brown
For National Children's Memorial Day
Jacqueline Brown
Peace Valley TCF, New Britain PA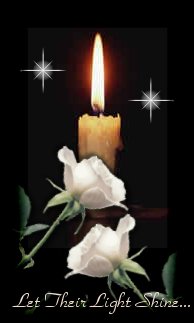 A shadow of joy flickered; it is me.
I told you I wouldn't leave.
My spirit is with you.
My memories, my thoughts are imbedded deep in your heart.
I still love you.
Do not for one moment think that you have been abandoned.
I am in the Light.
In the corner, in the hall, the car, the yard --
these are the places I stay with you.
My spirit rises every time you pray for me,
but my energy comes closer to you.
Love does not diminish, it grows stronger.
I am the feather that finds you in the yard,
the dimmed light that grows brighter in your mind,
I place our memories for you to see.
We lived in our special way, a way that now has its focus changed.
I still crave your understanding and long for the
many words of prayer and good fortune for my soul.
I am in the Light.
As you struggle to adjust without me, I watch silently.
Sometimes I summon up all the strength of my new world
to make you notice me.
Impressed by your grief,
I try to impress my love deeper into your consciousness.
As you should, I call out to the Heavens for help.
You should know that the fountain of youth does exist.
My soul is now healthy.
Your love sends me new found energy.
I am adjusting to this new world.
I am with you and I am in the Light.
Please don't feel bad that you can't see me.
I am with you wherever you go.
I protect you, just as you protected me so many times.
Talk to me and somehow I will find a way to answer you.
Mother, father, son or daughter it makes no difference.
Brother, sister, lover, husband or wife, it makes no difference.
Whatever our connection-friend or even foe-I see you with my new eyes.
I am learning to help wherever you are,
wherever I am needed.
This can be done because I am in the Light.
When you feel despair, reach out to me.
I will come.
Our love for you truly does transcend from Heaven to Earth.
Finish your life with the enthusiasm and zest that you had when we were
together in the physical sense.
You owe this to me, but more importantly, you owe it to yourself.
Life continues for both of us.
I am with you because I love you and I am in the Light.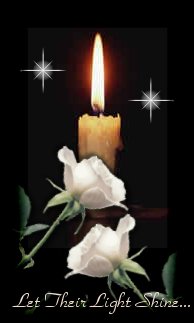 My sadness seems reflected in the music that I hear....
Every young one's glowing face reminds me you're not here.
Shoppers crowd the festive stores, emotions all run high
This world I was a part of once, seems to pass me by.
This season's meant for happy times, for Love,
warm hearts, and cheer, But grieving families around the world remember those not here.
We struggle through the season, lighting candles to proclaim,
Our children aren't forgotten, round the world our candles flame.
I slowly pass through the gates thrown wide,
one clear, cold Christmas day,
No toys or playthings do I bring---- those are gifts of yesterday.
I carry with me just a polished heart of granite made.
and walk with grief to where my baby lies,
in a silent silvered glade.
"Merry Christmas, Love" I whisper,
the quiet words seem so forlorn,
"I've brought my heart for you to keep, my gift
this Christmas morn.
It is filled with all my love,
though this one's carved of stone,
I'll place it here----- it will be near---- you'll never be alone."
We parents don't forget, my love, this month we will unite
To honor all we'll light a wall of candles through the night.
The world will know our memories glow with love
that's deep and true
We'll stand as one and before it's done
the Heaven's will know too.
Please keep my gift, Beloved child, close to where you lie
and know my love surrounds you' til the day I too shall die.
On the thirteenth of December My candles flame will light
I pray you'll see the love we'll free into the starry night.
Sally Miglaccio, TCF Babylon, NY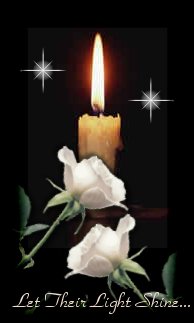 Special Graphics Created by Sonya Marvel
Marvel Creations

---